Chris J LeBlanc Photography - Lighthouses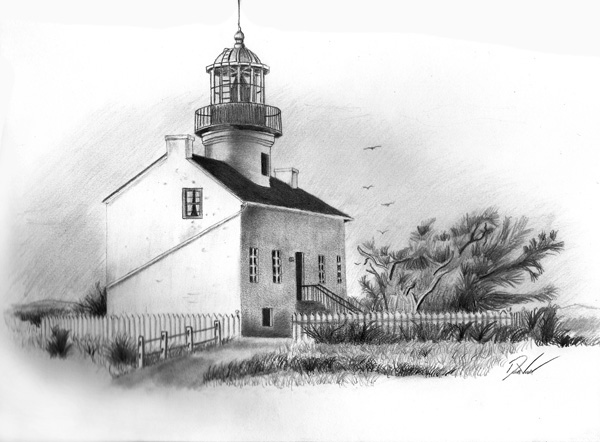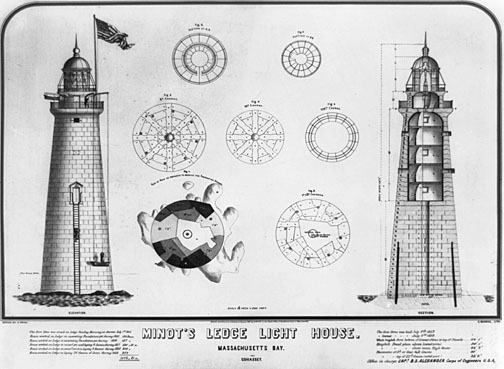 Providing details and historical information of  lighthouse pictures taken during my travels

Graves Lighthouse

Boston Harbor, Massachusetts

       © 2011 - Chris J LeBlanc  Photographer

Location: Located on ledges called The Graves, just outside Boston Harbor.

Latitude:  N 42.36513

Longitude:  W 70.86918

Year Constructed:  1905 (Royal Luther). Active

Tower Height:  113 feet    Focal Plane:  98 feet

Unpainted round granite waveswept tower with lantern and gallery, incorporating keeper's quarters. Lantern painted black.  original 1st order Fresnel lens is reported to be in storage at the Smithsonian Institution in Washington, DC.

Graves Light Station is not one of New England's romantic towers that stirs dreams of lighthouse keeping. Instead it stands exposed and alone atop the bleak jutting rocks of Graves Ledges. Even its name conjures unpleasant visions.

In the summer of 1904, the tower, which at its base was seven feet thick and had a diameter of thirty feet three inches, was completed. In 1905 the tower was lined with enameled brick, and the lantern, gallery, and lens were put in place. An iron landing pier was also built along with an elevated footbridge to connect the tower with the oil house, located ninety feet south of the tower.

The concrete-filled base stabilized the tower and contained a cistern, which held 1,500 gallons of water. Twice per year a tanker would arrive to pump it full of water for the keepers' needs. Lighthouse tenders also regularly delivered food, which supplemented the lobsters caught off the ledge.

Graves Light was automated in 1976, when its keepers were reassigned and its Fresnel lens was shipped off to the Smithsonian Institute.  Converted to solar energy in summer 2001, Graves Light remains an active aid to navigation.

Historic Postcard of Graves Lighthouse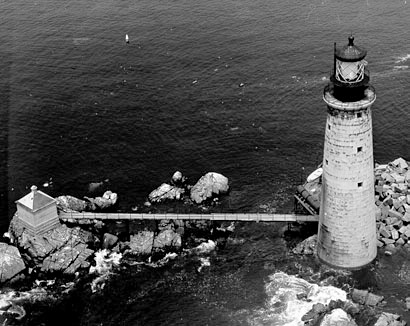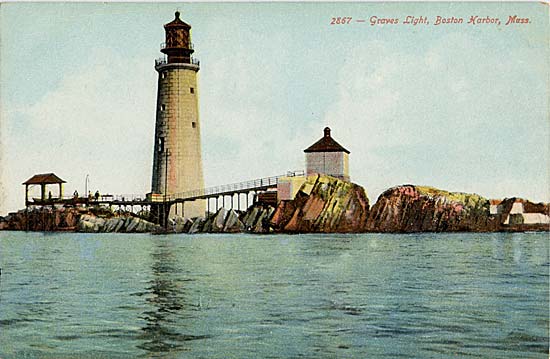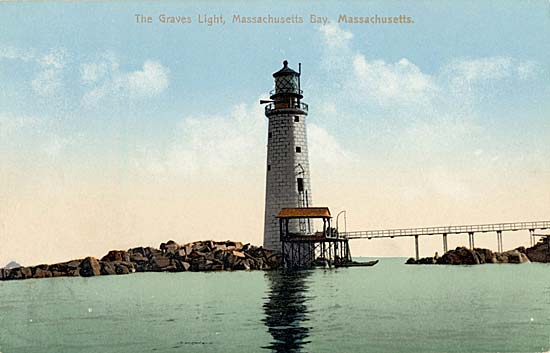 Historic Postcard of Graves Lighthouse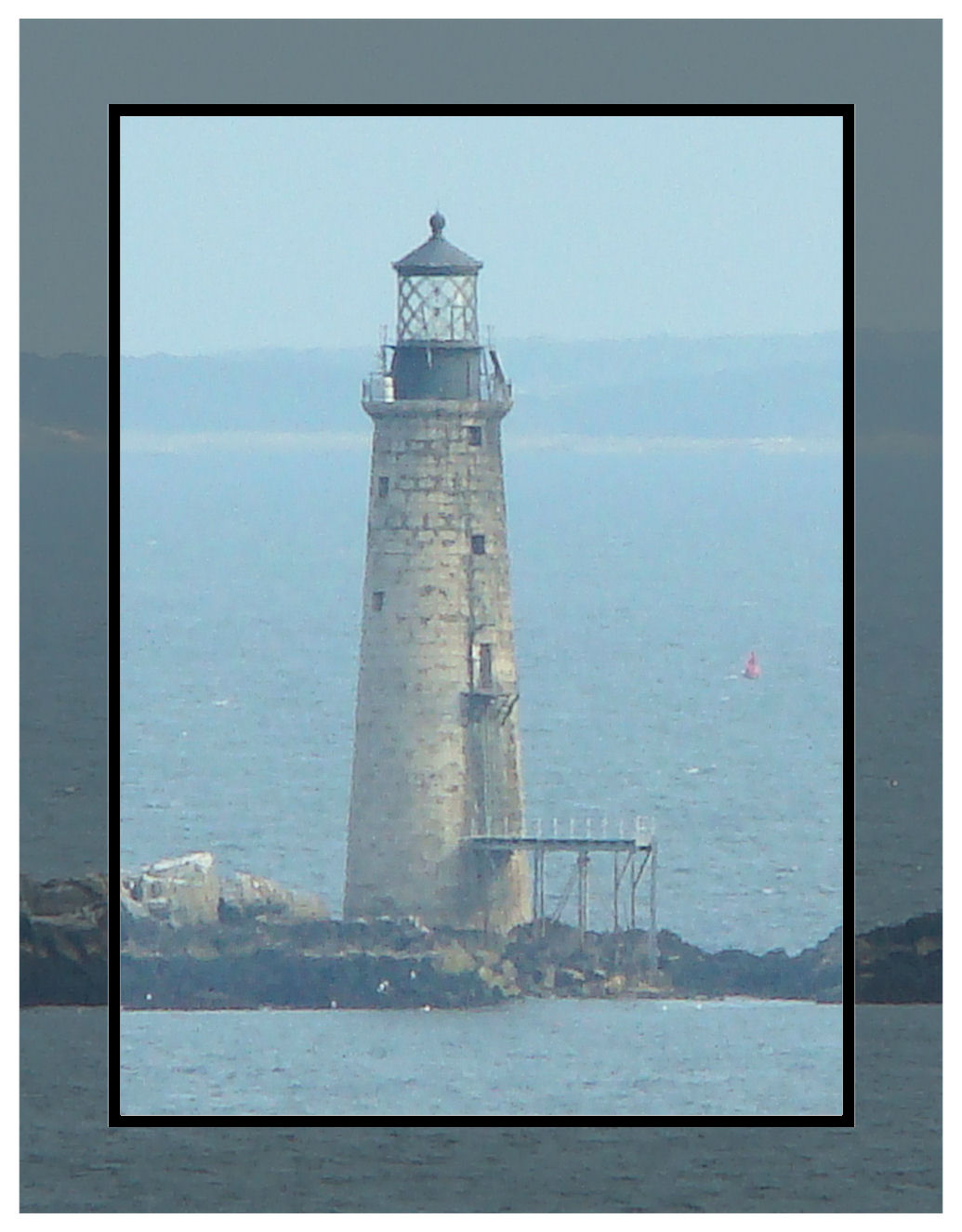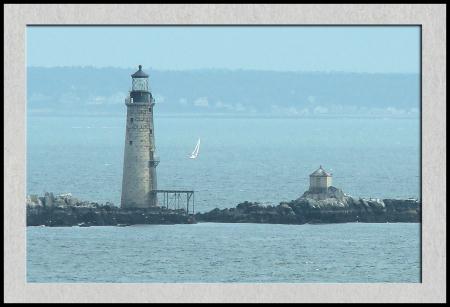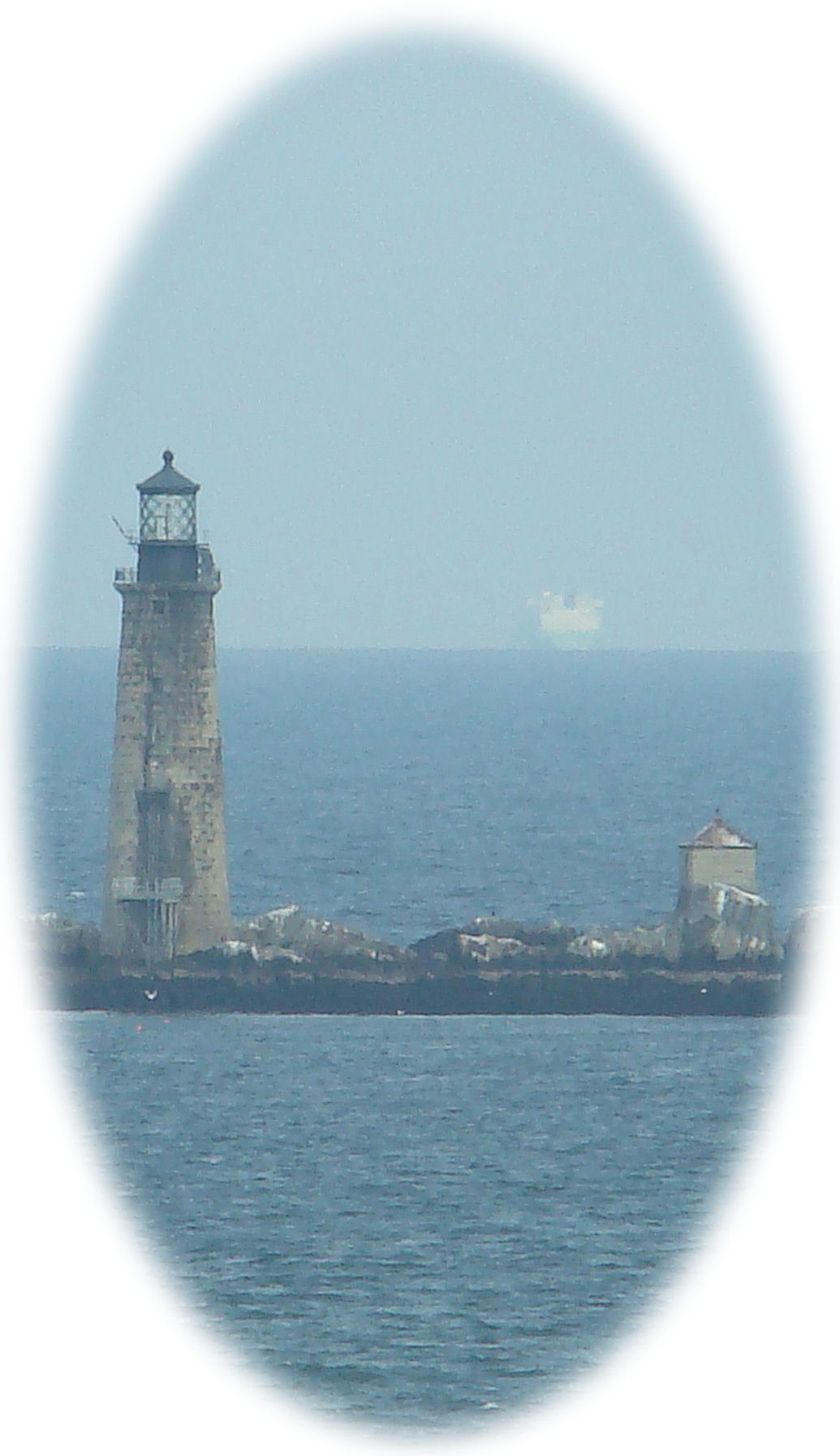 Historical Information:

* Some think Graves Ledge received its rather ominous name because of tragedies. But not so. It was named for Thomas Graves a prominent, an early Colonial Massachusetts sea trader.

* John Winthrop- The first governor of Massachusetts named a group of hazardous ledges The Graves for Rear Admiral Thomas Graves in 1653.

* In 1842 IWP Lewis, Civil Engineer to The US Lighthouse Survey was surprised that there was no lighthouse on The Graves.

* Later an iron bell buoy was placed rear of the ledges in 1854.

* In 1907 Congress appropriated $188,000 for a tower on Northeast Grave Rock. The tower's location was changed to The Graves in 1903

* Tje style of Graves Light is very similar to Maine's Ram Ledge Light. They were built around the same time.

* In early 1948 the Coast Guard took over the operation of the Lighthouse.

* The original lens is in The Smithsonian Institute in Washington DC.