Chris J LeBlanc Photography - Lighthouses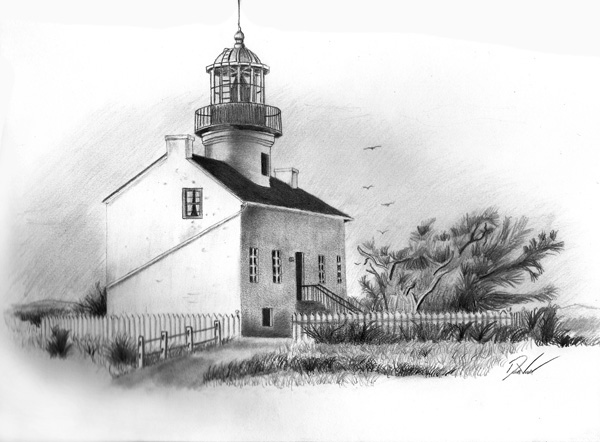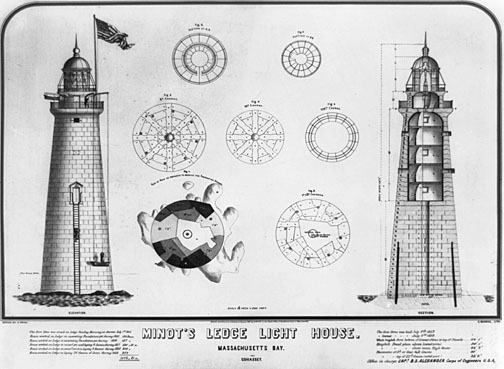 Providing details and historical information of  lighthouse pictures taken during my travels

Lightship Portsmouth LV 101

Portsmouth, Virginia

© 2012 - Chris J LeBlanc  Photographer

Location:  Located at the intersection of Water and London streets in Olde Towne, Portsmouth.

Latitude:  N 36.83702

Longitude:  W 76.29611

Year Constructed:  1916  Non-Active

360 Ton Steel Ship  length 101 ft, beam 25 ft

The light was displayed from the top of the mast. Hull painted red, superstructure painted white.

Historical Information:

BUILT AT: Wilmington (DE)

DESIGN: Self propelled; steel whaleback hull; single large dia. tubular lantern mast forward; steel pilot house/bridge at foot of mast; small jigger mast aft

LENGTH: l0l'10" (loa); BEAM: 25'0"; DRAFT: 11'4"; TONNAGE: 360 displ

PROPULSION: One 200 HP Meitz & Weiss 4 cylinder 2 cycle direct reversing kerosene engine; 4 bladed propeller; speed 8 knots

ILLUMINATING APPARATUS: 500mm lens with 6 flash panels revolved by weight-driven clockwork, kerosene lamp; housed in cylindrical lantern: 24,000 cp

FOG SIGNAL: 6" air siren; mushroom type horn on deck; compressor driven by two 40 HP kerosene engines; submarine bell; hand operated 1000-lb bell

CONSTRUCTION NOTES - MODIFICATIONS - EQUIPMENT CHANGES & IMPROVEMENTS:

Launched Jan 12, 1916; completed and accepted Sep 22, 1916-

1917: Iluminant changed from kerosene to acetylene-

1919: Equipped with radio-

1931: Equipped with radiobeacon-

1931: Illuminating apparatus converted to duplex 375 mm electric len~ lantern,

13,OOOcp each lamp, original cylindrical lantern housing removed-

1931: Fog signal changed to 10" air whistle-

1944: Repowered with Cooper-Bessemer 315HP diesel, 5'6" dia propeller, max speed 8.2 knots-

1963: USCG lists vessel with F2T diaphone, CR-i03 radar; max draft 12'2", other characteristics in line with above-

Radio and visual call sign NMGQ (1940-1963)

1916-1924: Cape Charles-(VA)

1925-1926: Relief (VA) - (not used during entire year)

1926-1951: Overfalls (DE)

1951-1963: Stonehorse Shoal (MA)

(1942-1945: During WWII, remained on Overfalls station; no armament provided)

1916: Oct 4, placed on Cape Charles (VA)-

1920: Feb 4, parted chain and engine broke down; anchored until engine repaired then regained station Feb 7-

1930: Jun, radiobeacon of Overfalls LV 101 sequenced with Five Fathom and Winter Quarter stations-

1951: Transferred to 1st District; overhauled at Boston then placed on Stonehorse Shoal (MA) May 1951

RETIRED FROM LIGHTSHIP DUTY: 1964; AGE: 48

SUBSEQUENT DISPOSITION: Decommissioned Mar 23, 1964; donated Sep 3, 1964; as of 1986 was dry berthed and open to the public as Portsmouth Lightship Museum, Portsmouth VA; marked with pseudo-name PORTSMOUTH

The ship was stationed off Cape Charles, Virginia, in 1916-24, at the Overfalls station off Cape Henlopen, Delaware, in 1925-51, and on the Stonehorse Shoal off Nantucket, Massachusetts, 1951-64. In 1964, when the Coast Guard was preparing to sell the ship for scrap, a Hampton Roads fishing boat captain, Tony Panello, towed the ship from Nantucket to Portsmouth in order to save it. Renamed Portsmouth, the ship was donated to that city.

It took volunteers nearly three years to repair and repaint the lightship and otherwise transform it into a museum piece. It was opened to the public as a museum in 1967, and was dry berthed close to the Portsmouth Naval Shipyard Museum. The volunteer staff is extremely dedicated to the museum's exhibition and upkeep, and they regularly collect information from the numerous visitors who seek out LV 101.

A visitor to the lightship museum today would first be struck by several lighthouse lenses on display on the main deck, such as the original 3 ½ order Fresnel lens from Smith Point Lighthouse. The main deck also contains the crew and officer's quarters, the ship's galley, the mess hall, and the captain's cabin. Above the main deck there is the Pilot house, radio room and the storm helm. The top deck also has two lifeboats, a fog horn and two air scoops to provide the crew with fresh air.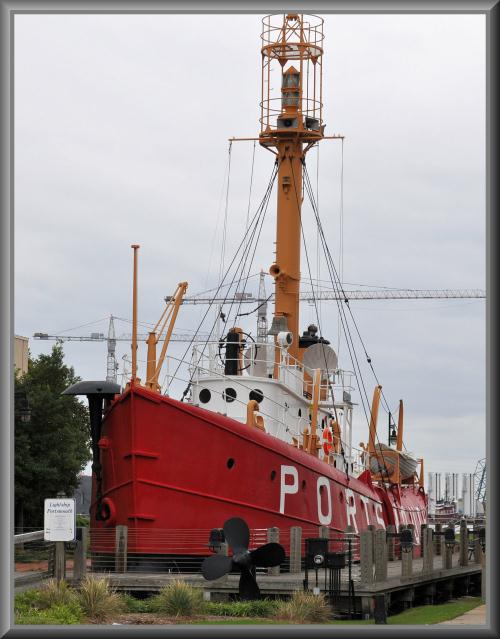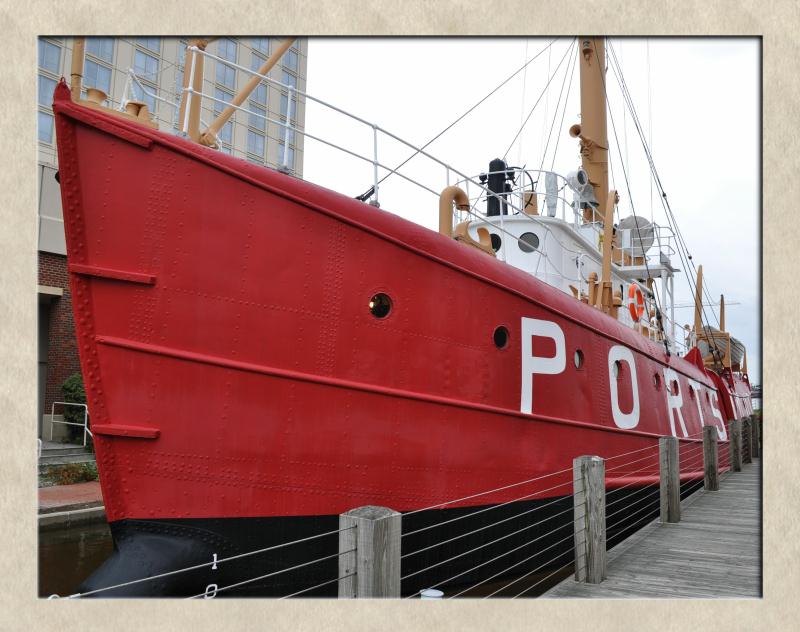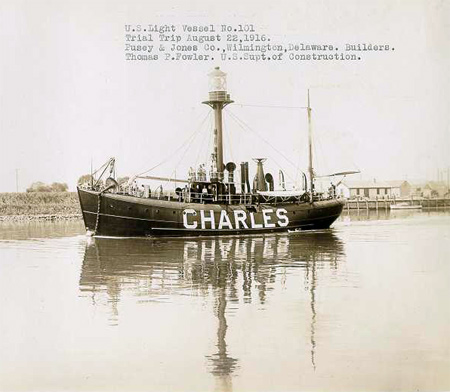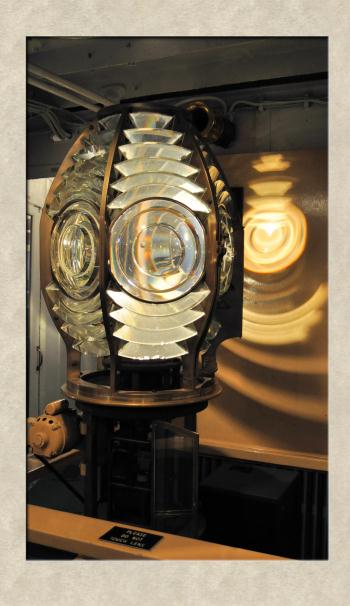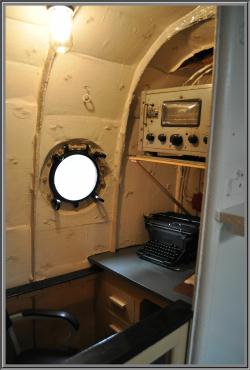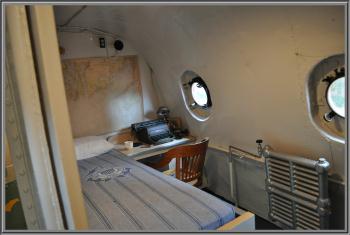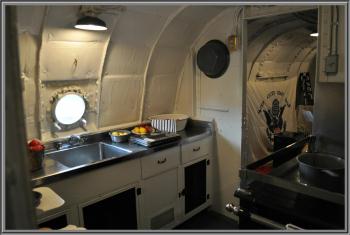 Fresnel lens from Smith Point Lighthouse

Interior of Portsmouth Lightship