Chris J LeBlanc Photography - Lighthouses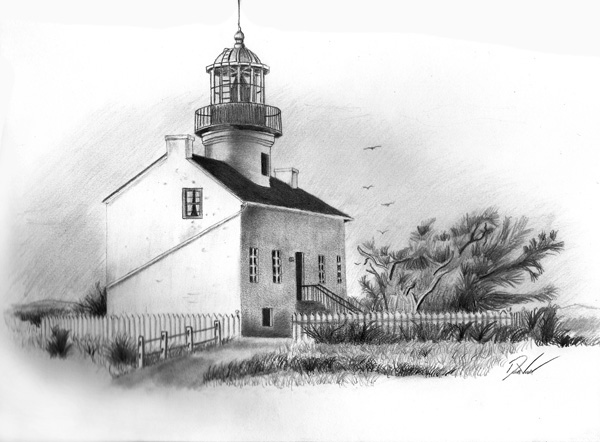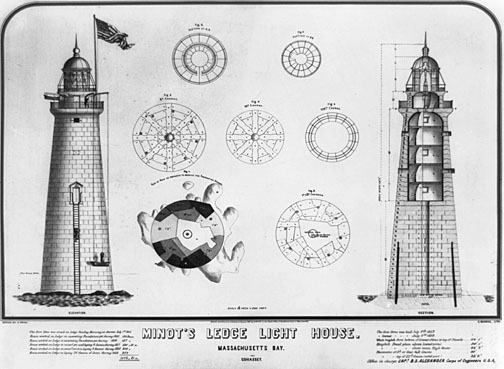 Providing details and historical information of  lighthouse pictures taken during my travels

Rose Island Lighthouse

Rose Island, Rhode Island

       © 2011 - Chris J LeBlanc  Photographer

Location:  Located on Rose Island in the middle of Narragansett Bay and just south of the Newport Bridge.

Latitude:  N 41.4955

Longitude:  W 71.3427

Year Constructed:  1870 (Albert Dow, designer). Reactivated (inactive 1971-1993)

Tower Height:  35 feet    Focal Plane:  48 feet

Octagonal cylindrical wood tower with lantern and gallery, mounted on a 2-story Empire-style wood keeper's house. Brick oil house (1912) and brick fog signal building (1912). Building painted white; lantern black.

Through the years, Rose Island has been used by the military due to its strategic location at the entrance to Newport Harbor. During the Revolutionary War, the island was used by both British and colonial troops at different times to defend Newport. From 1798 to 1800, a military outpost named Fort Hamilton was under construction on the island, but it was never finished. In 1889, part of the island was used as a rifle range, and during World War I and II it was used for storage by the U.S. Navy's torpedo manufacturing plant in nearby Newport. Keepers stationed at Rose Island could definitely not expect peace and quiet all the time.

The wood-framed lighthouse that stands on the island today was built in 1869 using $7,500 allocated by Congress the previous year. Activated on January 20, 1870, the Rose Island Lighthouse stands atop Fort Hamilton's South Battery on the southwestern point of the island and replaced a private light maintained by the Bristol Steam Boat Company. The thirty-five-foot tower is attached to the western end of the keeper's dwelling, which is two stories tall and topped with a mansard roof. The optic in the lantern room was originally a sixth-order Fresnel lens that displayed a fixed red light to guide mariners traveling the East Passage of Narragansett Bay and those entering Newport Harbor. A brick oil house was added to the station in 1912 along with a brick fog signal building that was placed on a rock just west of and below the lighthouse.

When the Newport Bridge was opened in 1969, both the Gould Island Lighthouse north of the bridge and the Rose Island Lighthouse became obsolete. Rose Island was deactivated in 1971. In 1976, the lighthouse and grounds were given to the University of Rhode Island to use for marine research, but the school was unable to maintain the property, and the decrepit, badly vandalized lighthouse was returned to the federal government. When the lighthouse was declared surplus property in 1984, the city of Newport took it over.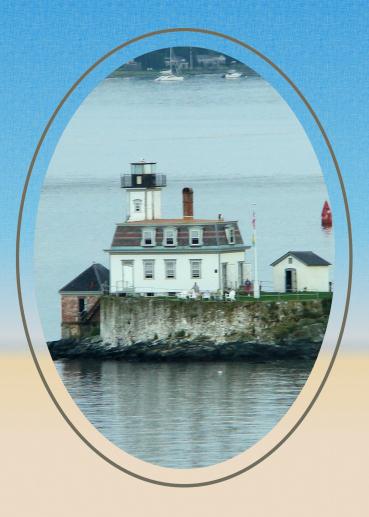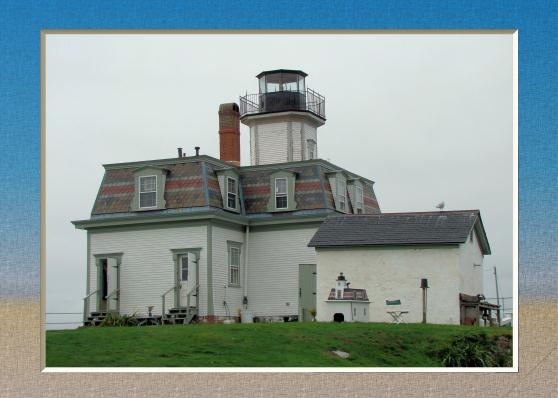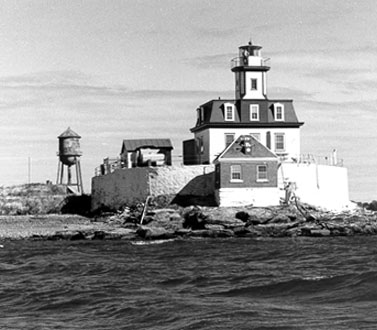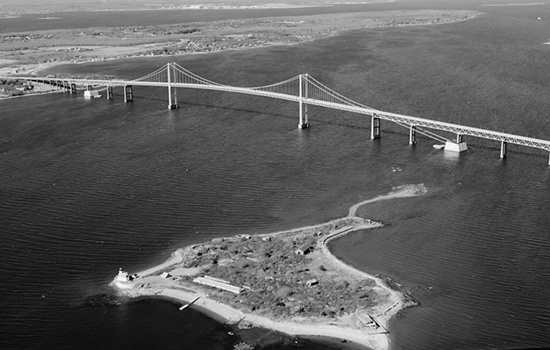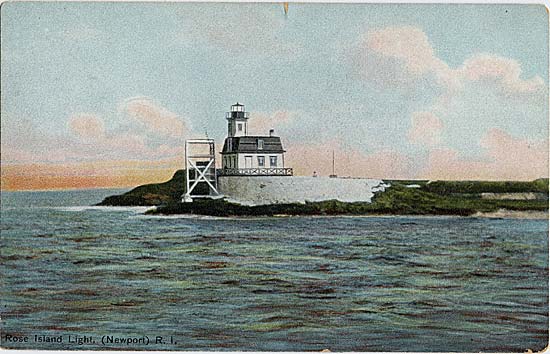 Historic Postcard of Rose Island Lighthouse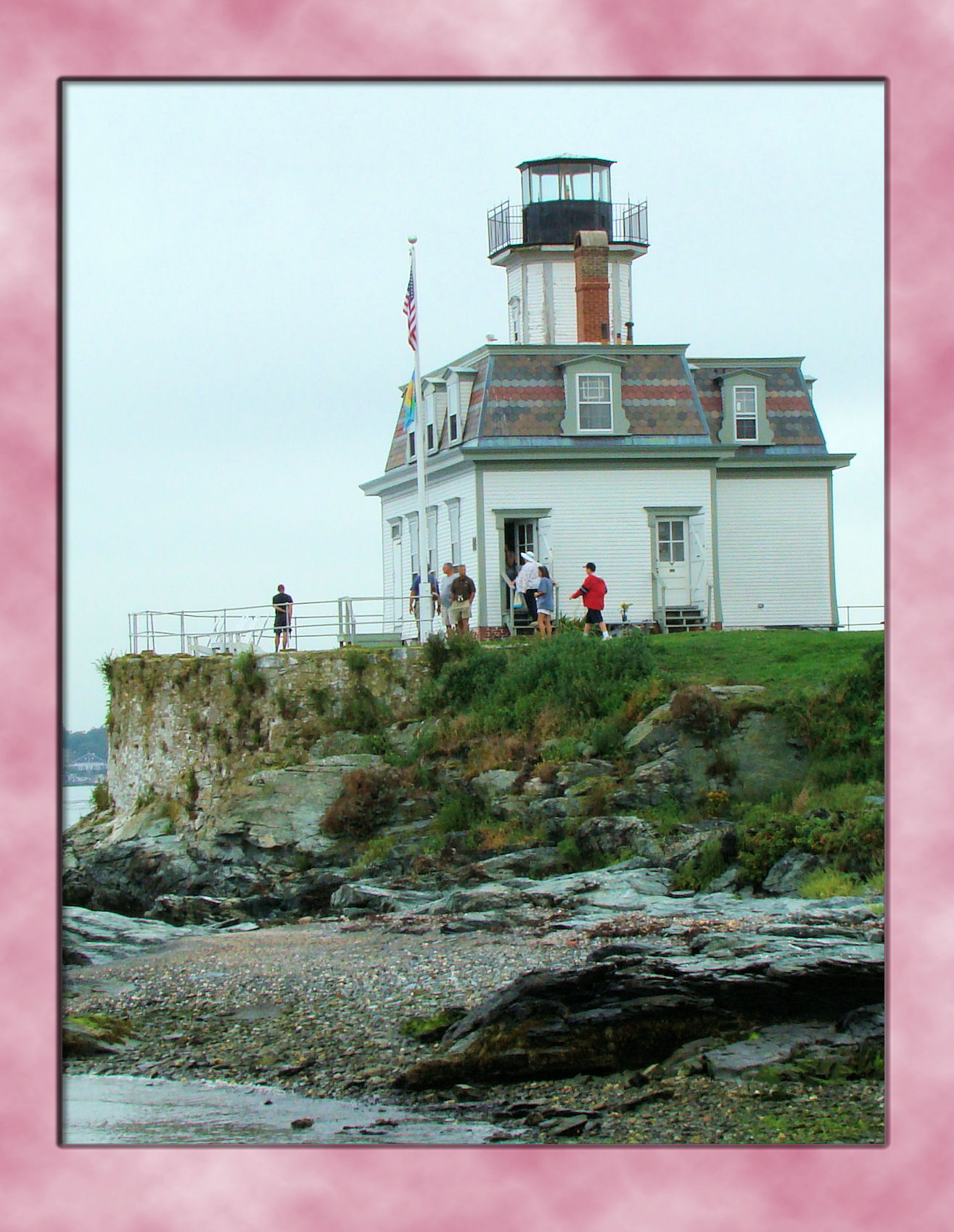 Historical Information:

Station Established: 1870

Year Current Tower(s) First Lit: 1870

Foundation Materials: MASONRY

Construction Materials: WOOD

Markings/Pattern: WHITE TOWER ON DWELLING

Original Lens: SIXTH ORDER, FRESNEL 1870