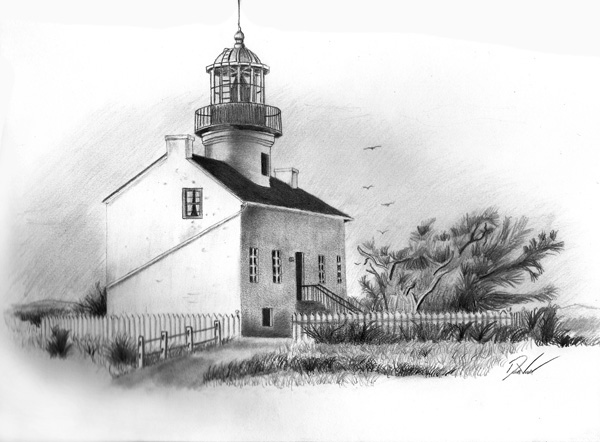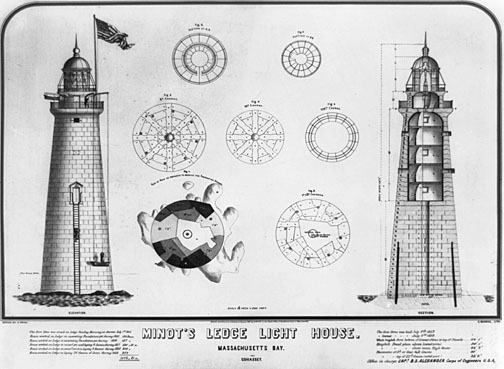 Historic Light Station Information

& Photography

Sand Island Light, circa 1859: photo by "M. Fontaine." This was one of a series of photos of various lighthouse stations taken by a contract photographer, M. Fontaine, for the Lighthouse Service in 1859. This light tower was blown up 3-1/2 years after this image was taken.

Location: Off Mobile Point south of Fort Morgan

Station Established: 1838

Year Current / Last Tower(s) First Lit: 1873

Operational: No

Automated: Yes, 1921

Deactivated: 1933

Foundation Materials: Stone

Construction Materials: Brownstone

Tower Shape: Conical

Height: 131'

Markings/Pattern: Unpainted Gothic tower with black lantern

Relationship to Other Structure: Separate

Original Lens: 1838: 14 lamps with 16-inch reflectors; 1859: First order Fresnel lens; 1862-63: Fourth order Fresnel lens; 1873: Second order Fresnel lens, now at at the Fort Morgan Museum.

Characteristic: Fixed white

Fog Signal: Bell struck by machinery every 20 seconds.

Historical Information:

In 1837 the building of Sand Island Light was approved and $10,000 was authorized for the building of Alabama's only seacoast light. The tower was designed by Winslow Lewis and was completed in 1838. Construction came in under budget costing $8,899.00. The lens consisted of 14 lamps with 16-inch reflectors. John McCloud was installed as the first Keeper.

First tower was replaced in 1859 under supervision of Danville Ledbetter an Army Engineer. This was then the tallest lighthouse built on the Gulf Coast. A first order Fresnel lens was installed.

The lighthouse was intentionally destroyed in 1863 by Confederate soldiers when it was discovered that Union soldiers were using the tower as a lookout to spy on Fort Morgan.

From 1864 to 1873 a temporary wooden structure was used which displayed a fourth order lens.

Current tower was completed and lit in 1873. The same plans used in the Currituck Lighthouse were also used for construction of this one. A second order Fresnel lens was installed.

In 1889 1,600 tons of granite was placed around the tower as rip rap to fight erosion that was washing away the Island.

In the 1903 Light List, the "Description of Station" reads: "Black conical tower; white dwelling with green blinds, on pile foundation 768 feet N. by WE. 3/4 W. from tower. Square, white, pyramidal fog-bell tower about 470 feet N. by W. 1/4 W. from the light-tower. Rear light on the middle of the ridge of the roof of the keepers' dwelling." At this time the station was a range, with the tall tower being the front range light and the rear beacon was a 35 foot tower that was 768 feet North by West 3/4 West in the rear. Ships approaching the area noted "The rear light should be kept open just to the westward of the light tower."

In September 1906 a hurricane struck. The tower withstood the hurricane but Assistant Keeper Andrew Hansen, his wife and another Keeper's wife were killed. The surviving Keeper had gone ashore a few days prior to the storm. The storm destroyed the two story keeper's house.

A second hurricane struck in 1919. None of the Keeper's survived this second storm. The log indicated they had gone to pick up a second assistant Keeper and it was thought they must all have been caught in the storm.

The light was automated in 1921.

In 1971 the second order Fresnel lens was removed from the lighthouse and is on display at the Fort Morgan Museum.

In 1973 the Keeper's house rebuilt in 1925 burned down.

In November of 1975 the light was added to the National Register of Historic Places.

Lighthouse is owned by the town of Dauphin Island. Efforts have begun to preserve the structure.

Sand Island Light, 19th century:  Original caption: "Taken from outer end of water jetty, showing shore jetty in front of dwelling extending right and left.";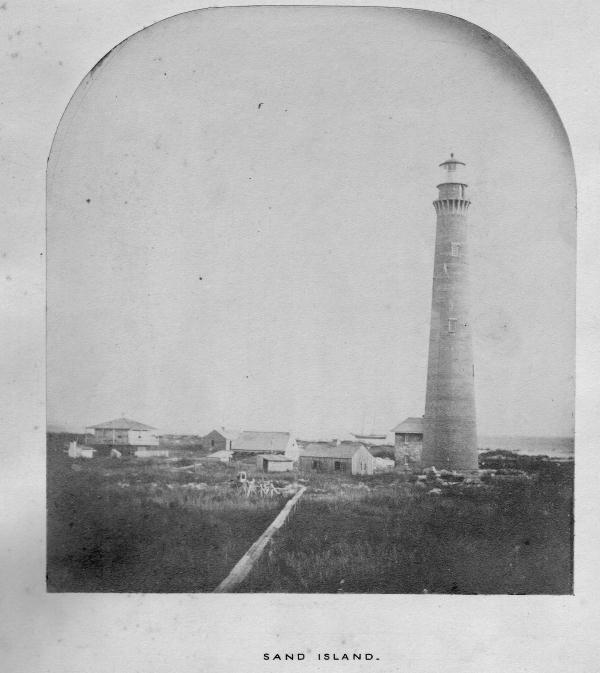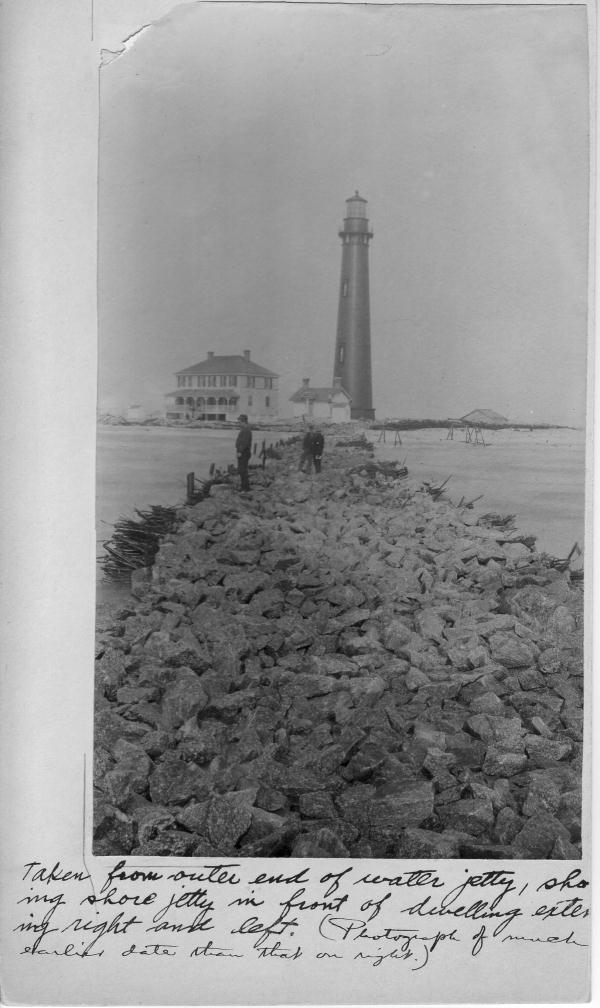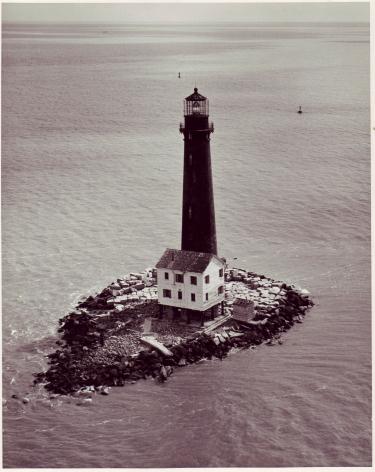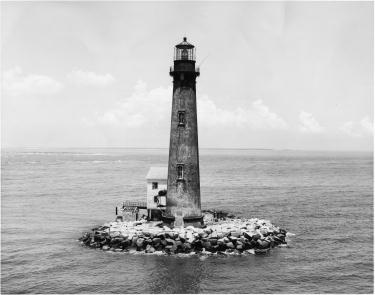 Sand Island Light, 1963:  Original caption: "Sand Island Light, Near Mobile, Ala. Bay."; photo dated 7 August 1963; photo by "R. F. Gliniecki."

Sand Island Light, 1962:  Original caption: "SAND ISLAND LIGHT, MOBILE BAY ALABAMA."; photo dated 26 February 1962